Creative Direction & Strategy
Est. Today
Est. Today was a social e-commerce company focused on empowering the tween target market users to design and share their own fashion designs. The integrated platform offered a virtual place to play and explore personal style in a safe community that was combined with a sophisticated back end production process which would transform the virtual custom garment into a physical product.
Planning and Strategy
Create a visual depiction of target consumer personas including family influences, personal preferences and fashion choices
Research and present case studies of influential characters in the tween market and insights into their relateability
Compile information around the influence of the media and entertainment industry in the tween market
Identify trends in the tween market that enable the girls to develop their own stories that shape their identity
What is the role of "play" and "pretend" in the development of a tween girl's identity
Implications to the strategies of Est. Today
Identify key design themes for graphic direction
Persona Profiles
My research expanded upon a group of identified tween consumers from the firm that began the Est. today branding development. I took each of their personas and created an outline of where she finds inspiration, what activities she enjoys, how her family influences her decisions, and where she receives information.
I mapped each girl's preferences on an axis to determine her inspirations from wholesome to edgy and if she prefers to create or consume. In addition, her activities were charted on the spectrum from virtual to physical and from purely social to artistic. Finally I considered where how she informs herself and I charted her preferences on how they might inform her more on life issues or fashion and if they are pop culture focused or more independent.
These findings informed decisions of who is the core target market segments for Est. Today
Trends in the Tween Lifestyle Landscape
Inspiring archetypal personalities in tween focused media. I noticed that each show franchise had an online presence to connect with audiences where the users were invited to take online quizzes to determine which character they are most like
Aspirational Characters and their stories highlight idealized lifestyles for girls their age and a little bit older. For instance, Hanna Montana is an awkward girl who transforms into a superstar. The Clique and Gossip Girl are stories about groups of teens who have access to luxury and style to be emulated
Reality TV heavily influences this target market. This age group consumes a lot of reality tv like American Idol, Project Runway and America's Next Top Model. These shows all have a similar theme of presenting talents and creating a persona through self expressive pursuits
Personalized Play that blends the physical play with online worlds. For instance, Webkinz is an stuffed animal with an online world where the user can personalize a room for their pet. Stardoll is a platform for users to style their favorite celebrities- a virtual paper doll on a real life personality
Technology for tweens like the Disney Flix Digital Camcorder and Disney Director Software makes filming and creating videos accessible to younger audiences
Mainstream information sources for teens focus on informing positive development and keeping up with the pop culture trends. Tweens are taught at this tender age how to be strong individuals within the prevailing culture
Fashion Graphic Trends
Peace, Love & Recycle - vintage styled graphics reflect the values of this generation to be accepting of others and to take care of the planet
Accessorize My Tee - Kitchy designs of costume jewelry in a layered placement appeal to a fashionista customer
80s Zoo - Animal prints in 80s colorways, used with rock 'n roll references or as a Lisa Frank style fantasy design
Guitar Rocks - Large guitar prints with other rock inspired elements like a punk checkerboard or pop stars
Plaid elements - as a full pattern or a graphic fill potentially add either a punk or preppy influence
Cute, Ditzy Prints - hearts, dots and stars, remain a hit with tween girls
Floral Trends - Emphasis on feminine and pretty. Dither and color overlay effects and trending. Preferred placements are off center, framing the body more often than a bold central statement
Athletic Layering - Graphics in this category have a classic look and feel that are combined with feminine elements like flowers and pastels that soften the aesthetic
Grandpa's Jersey - Athletic vintage collegiate styling utilizing a lot of distressing, slogans, numbers and logos.
Loud and Clear - bold, singular designs using kitchy imagery that is positive and fun
The Platform
The Est. Today online platform consisted of 3 sections - design, community and shop. Integrating these 3 sections created a unique experience for the tech enabled tween consumer.
New users were acquired through fashion contest partnerships with trusted media sources. Once on to the site, users would first sign up for an account and create a profile to establish her closet. She then would create her contest entry and fill her closet with designs she made using the proprietary Design Tool. Every design she makes is available to purchase. She could share her design with her friends and family outside of the platform, as well as within the site. Finally, the Shop section featured ready-to-wear pieces to complete a look.
The Design Tool
The key feature of the Est. Today website was the proprietary Fashion Design Tool. The flash enabled application was intentionally made to resemble a designer's sketchbook, with doodles, swatches, sticky note tabs and pantone swatches underneath- hiding the technology and presenting only the magic of what it might be like to be a designer.
The users began their designs by choosing a theme of graphics. For instance, she could choose Positive Messages for graphics related to world peace or saving the environment. Or an Athletic theme for a vintage school graphics that might appeal to the customer who likes the styling of Abercrombie or American Eagle. New Design sets were added every 2 weeks to respond to new seasonal trends and to increase design possibilities, keeping users on the tool longer.
Hotzones
The next steps are where the user creates her design. She chooses a background graphic, clicks and drags it to the garment on the left. Zones will light up guiding her to where she might like to place her design. Next she chooses from a set of primary designs, then secondary designs and finally any branding marks and places them on the garment. She can work within one theme or switch between themes for endless combinations.
Hotzones are specific to each theme and layer. In the back end, these precise hotzones function as a map for production to exactly replicate the design the user created in real life.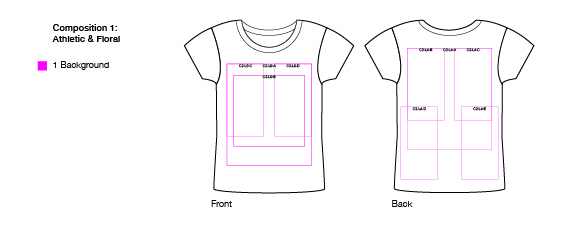 Sample Designs
Below are examples of the artwork offered in the design tool and samples of designs that were possible
Website
Our goal for the website was to create an exciting opportunity for the tween girl to explore her personality by designing her own clothes. By giving her a platform to express herself and a safe forum to share and receive feedback she is given every opportunity to develop a strong sense of satisfaction in her own talents in a fun and rewarding way.
Our business objectives were to create a site that has enough content to hold the attention of the user. The contests were a tool to motivate the users to create their best designs. Calls to action were strategic to convert their enthusiasm into real sales.
The first redesign of the homepage was to correct navigation and messaging issues. In focus groups, the users liked the design of the original homepage, but most did not know how to actually use the website. It was unclear where to start and how to move further into the site. So while the original design was cute and reflected the frivolity of the target market, it functioned very poorly in terms of messaging and directing users into the site. Improvements were:
Clear calls to action- "Design Your Own Tee"
Bold pricing graphics to reinforce the message that custom designs were available to purchase
Contests were advertised with their own graphic identity
Activity from the community advertised to generate further activity from an excited user base
The second redesign reflects the push to drive sales. The community was active with 16,000 visitors per month, spending an average of 9.35 minutes on the site at a time. Our marketing and partnerships were driving traffic to the site but was not converting to much needed sales. Adjustments made were:
More emphasis on call to action navigation tools like bold buttons and multiple entry points
Navigation bar was changed for greater visual hierarchy
Redesigned banner layout gives more opportunity to advertise new design sets, sales, and current contest offering
Use of site wide banner headline to reinforce single sale message on every page
Packaging
We took care to make the act of receiving a custom designed apparel piece a big event. Garments were wrapped in teal tissue paper and sealed with an Est. Today logo sticker. Included in the package was an envelope that congratulated the designer on her creation. Inside the envelope she received an order slip with a picture of her design and postcard about the website and commemorating her status as a designer. She also received a sheet of fashion themed stickers that she could use to decorate her physical sketchbook.